Bright and bold design color trends are changing the way designers use colors in their projects. And you can bet it's an irrefutable way to create colorful templates design. With a focus on saturated hues and contrasting vibrant colors, bright and bold colors allow designers to stand out. Especially when lots of neutral colors are involved.
In this post, we'll explore some of the inspiring colorful templates design used on Vizons Designs artwork.
What Are Bright Colors
When we talk about bright colors, we're not referring to colors that are painful to the eye. Used with the correct amount of hue and saturation, bright colors are bold and intense in nature. So, warmer colors like yellow, red and orange are considered brighter than cooler colors like green and blue. But actually, almost any color can be bright and bold if used correctly.
Today's bright and bold design color trends are partly influenced by pop art, graffiti and murals. In fact, these have all had a huge influence branding, graphic design and fashion over the past several years. Creating a mood of youthful exhilaration, bright and bold colors are ideal for making your designs stand out from the crowd. Typically, they're used on social media like Instagram in an effort to define a strong brand or capturing an audience.
Vivid color palettes are this year's most noted color trends and are especially popular in all areas of design. But more notably in the area of website design and product packaging. In fact, designers are increasingly adopting bold colors integrated with unique shapes and typography as well as bold duo-tones.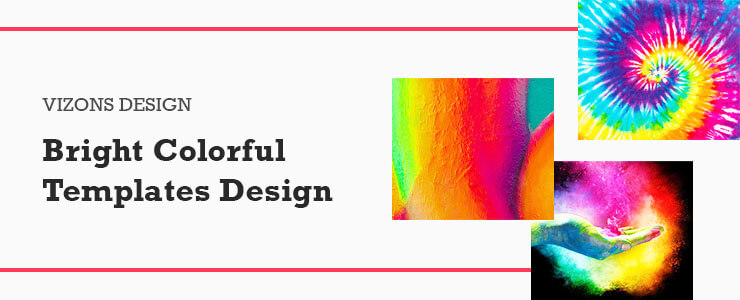 Want to be the prettiest rainbow in the sky? Here are some bright and bold designs to add a splurge of color to your next project.
Colorful Templates Design
Going bright and bold with little effort is easy with colorful templates design on Vizons Design. For designers, color is king and when used the right way, adds a whole new dimension to the overall look. But choosing the best color palettes for each design is key.
As you can see from the above designs, 2020's color trends have included burnt orange, bright jades and rich maroon colors. Burnt orange has enjoyed resurgent popularity in decor and fashion alike in recent years. It has a nostalgic feel. Jades and hues of blue adds tranquility to designs. Then, there's burnt orange when taken up a shade gives you apricot. It's great for offsetting darker shades already used in design work.
There's more colorful inspiration to be found on Vizons Design. And although we're looking at current trends, future posts will include what's ahead.
You may also enjoy reading: Creative Christmas Tree Decorations To Try This Year