Whether using Santa Claus address labels or other designs, Christmas return address labels always make holiday mailings look more festive.
The Christmas season is the most exciting time of the year. Everyone enjoys getting a new Christmas card in their mailbox. And one of the first things they notice is the Christmas return address labels.
So, make sure you have the best templates, products, and tools for creating unique holiday labels. Of course, you don't have to make them yourself. We have Santa Claus address labels and other designs you can personalize!
With this in mind, here are affordable and simple tips to help you create beautiful Christmas return address labels.
Making The Best Christmas Return Address Labels
01.

Use Free Holiday Templates For Address Labels

You can use start with our holiday templates and customize your own labels. Choose from a variety of designs based on your personal preferences. After all, just because you're sending Christmas cards doesn't mean the label has to be a festive tree design. Instead, it can be a winter scene with birds or snow.

The point is, give them your own personal touch to make them perfect for your use. Besides, elements in our designs can be adjusted and even moved so you can create your ideal label. Not only that, but after designing, we will print and ship them to whomever you like!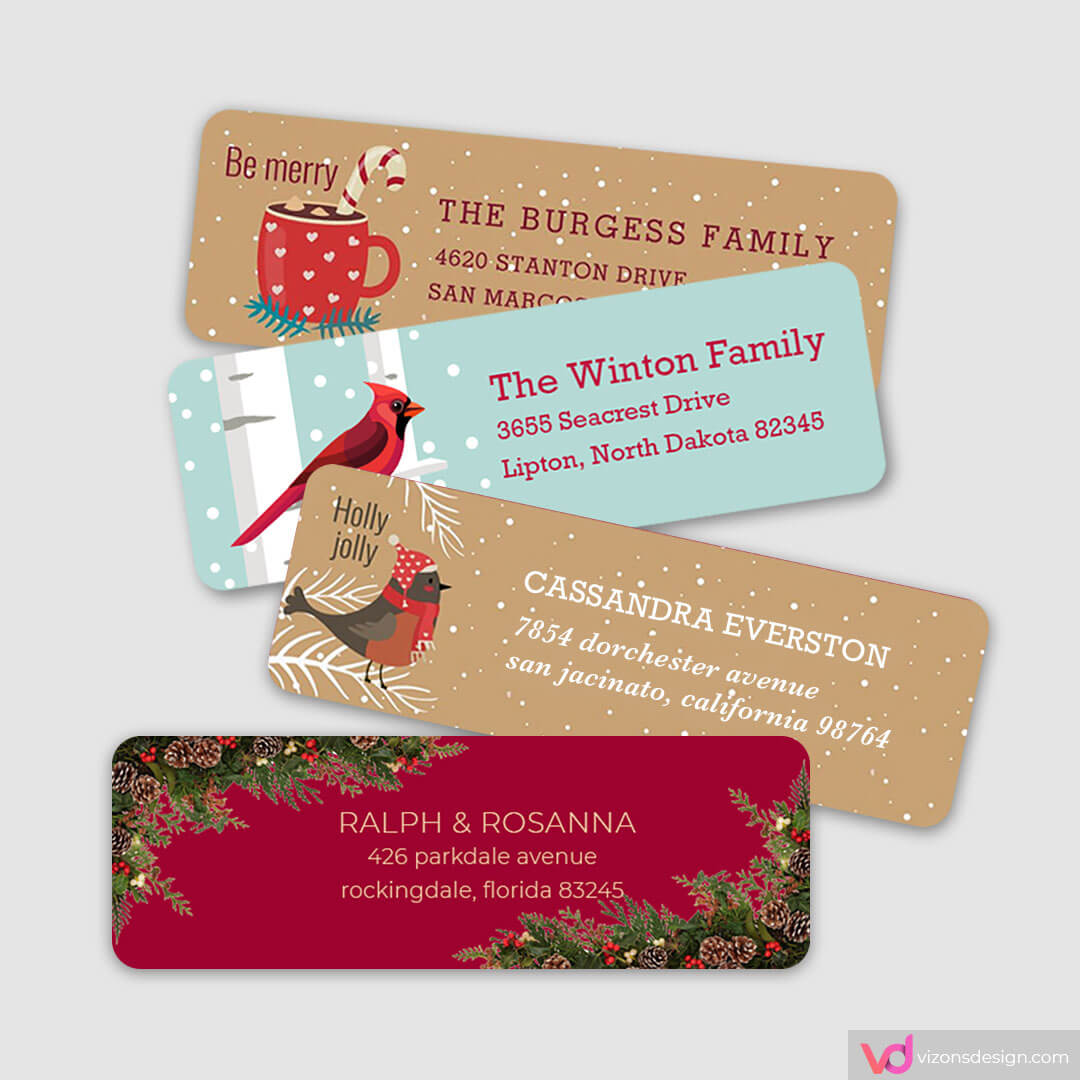 02.

Spice Up Your Business Holiday Packages

Christmas return address labels can even help your business shipping look more festive. You don't necessarily have to use Santa Claus address labels and tags on everything. But the designs ideally should be tasteful and complement your business.

Also consider shipping your products so they can also serve as gifts or presents.
03.

Keep It Simple

Although you might be tempted to create different designs for all your mailings, that could get hectic. Instead of simplifying your gift giving and card mailing process, you'll actually add a step. After all, all you need do to our address labels is personal with text. Of course you can also edit the design as well.

On the other hand, if you give Christmas presents to nonprofits, different label styles might work for you. For instance, male and female gifts can have different color labels. That way when the organization disperses them, it'll be easy for them.

You may also enjoy reading: Writing Catchy Headlines For Posters