Sending creative holiday greeting cards is a great way to stay in touch with family and friends. On top of the ever changing pandemic situation worldwide, people aren't allowed to visit as we normally did last year. These physical greeting cards not only make people feel less lonely, but shows that they are thought about. Holiday cards are a festive reminder of the current holiday and they can be read for years to come.
One of the greatest joys of the season is to design creative holiday greeting cards. And to make them even more personable, you can design them with your favorite photos and personalized greetings.
Read on to discover our options for customizing and designing your unique holiday card this year.
Design Creative Holiday Greeting Cards
Designing a holiday cards with cute graphics that matches your personality or recipient's is easy at Vizons Design. We have a variety of holiday card themes to suit every taste. With themes for kids, plus merry and bright, your personalized holiday card can complement your wishes for the holiday season. Traditional colors like red, green and white don't have to be the only colors you use. Holiday cards can be an assortment of colors. So, choose various text color options for your cards and select the template that matches your personal style.
Also, don't forget about the feel of your card. Selecting a different card stock can make your holiday card look and feel luxurious and elegant. And there's also foil to add an extra touch of glamour to your card. You can also pick a template with personalized foil paper that will make it stand out.
Nostalgic Holiday Cards
Sticking with the tried and true doesn't always mean you have to design with the same colors. Design holiday greeting cards using beautiful old pickup truck graphics and beautiful bulbs from centuries ago. In fact, we designed two such holiday cards for you below that are easy to personalize with your details.
These cards will surely bring a smile to your loved one's face when they receive their nostalgic card in the mail. Additionally, these types of cards bring back memories for them too and shows that you wish they could celebrate with you.
Photo Holiday Greeting Cards
Say "Happy Holidays" this year by designing your own unique holiday cards. When choosing your holiday greeting card, it's important to consider the recipient as well as your message. How you choose and design your holiday cards will depend on the holiday you choose in addition to the recipient. So, if you need help selecting the card that best fits your needs, have a look at our custom holiday cards below.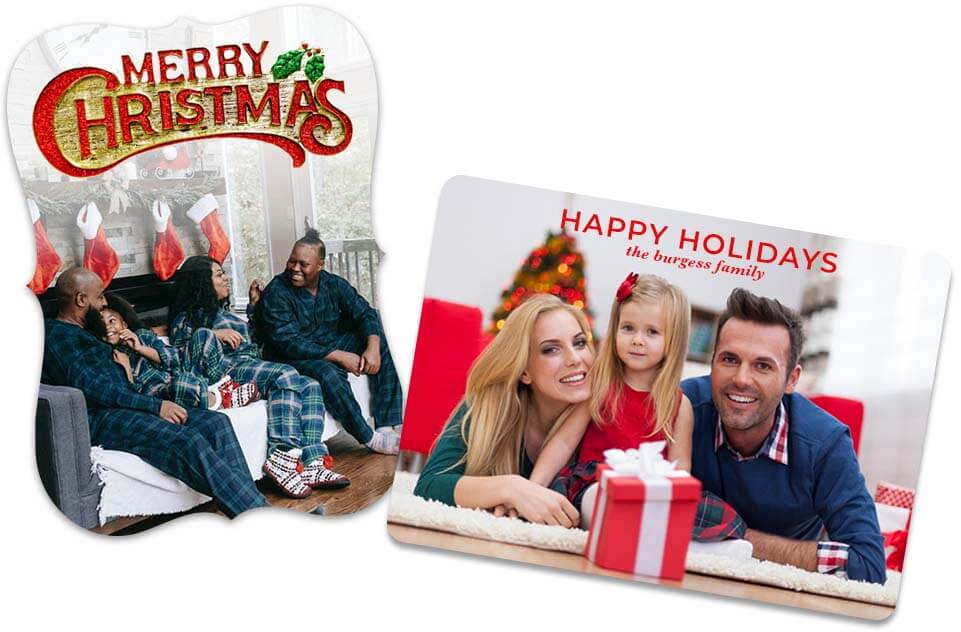 Christmas photo cards allow you to use your favorite memories as the focus of your card. The recipients can see a collection of the best times of your year. Use complementary colors for your title and message, and you're all done.
You may also enjoy reading: Personal Branding Templates and Tips