When it comes to how to choose the perfect wedding invitations, it's not as simple as couples may think. Because between the cost, theme, sizing, inserts and paper types, there's a lot to think about. But we're help to help.
Read on to discover our quick tips on how to choose the perfect wedding invitations.
Choose The Perfect Wedding Invitations Starting With A Theme
Choosing a wedding theme is a great way to ensure the overall design elements are complementary. From elegant vintage designs to floral elements, these styles work well for most wedding stationary. And our wedding invitation ideas below will help set the stage for what your guests can expect.
Popular Color Schemes For Wedding Invites
The best colors for your wedding invitations mostly depends on your chosen theme. But also the overall style of your wedding. Plus, the seasons play a key role in the appropriate colors to use for your invites.
Generally, online catalogs provide color filters to help you choose the best colors and hues. Also, keep in mind that some invite colors can be adapted to your needs. So, don't be reluctant to ask the supplier before you rule out a design. And that's the beauty of custom wedding invitations. Our graphic designers can help you chose the perfect wedding invitation or design something different.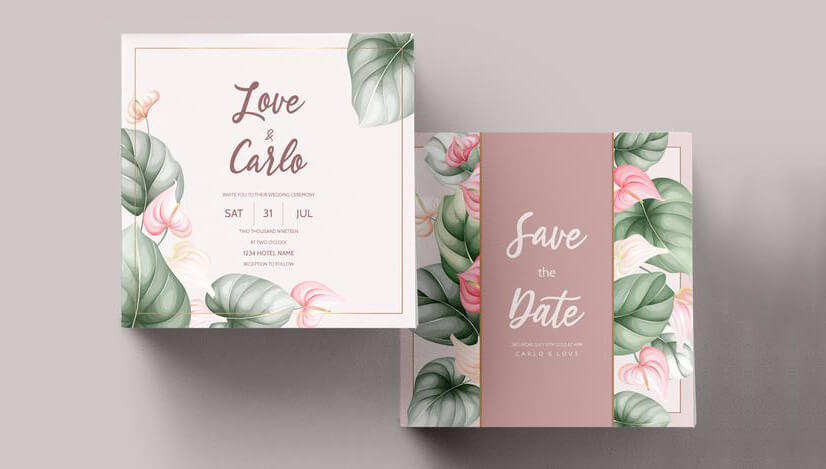 Invite Paper Types
The paper type is important because it dictates the look and feel of the overall invitation. Therefore, to choose the perfect wedding invitations, you must keep the paper texture in mind. It's best to choose a paper type that suits your wedding theme. Of course, you should always consider your budget. The fancier the paper, the more expensive it will be. The different textures and designs of paper for wedding invitations includes:
Parchment – Due to its affordability, parchment paper is very common.
Linen – In addition to being a beautiful texture, linen paper won't break the bank.
Vellum – Adds a luxurious look to wedding invitations because it's a see-through material.
Handmade Paper – Not only is handmade paper relatively affordable, but it's also environmentally friendly.
Cotton – Cotton fiber material is usually a bit more expense because its more compatible with a letterpress.
Felt – Felt card stock is thicker than the average card stock.
Glossy – Glossy paper is a popular choice and similar to matte but has a glossy shine.
Recycled Paper – This paper type uses organic recycled materials and plants. However, it's similar to handmade paper.
Glassine – Glassine is a similar, but waxier paper type to Vellum.
Matte – A crisp and clean looking paper and is a common standard for online brands.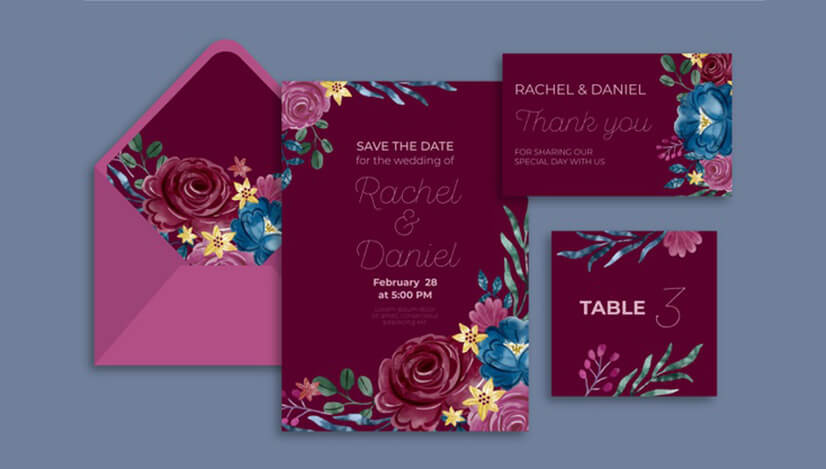 Wedding Invitations Shapes & Sizes
Before you starting the mailing process, make sure you've thoroughly considered the invitations shapes and sizes. In addition to differing in postage costs, different shaped and sized cards change your wedding theme's overall look. Check out the best wedding invitations for the different shapes and sizes that Vizons Design has to offer.
Square – Square is the standard shape for invitations. They have the basic 90 degree angles for corners.
Bracket – A bracket, just as the name sounds, has bracketed sides along all four edges.
Ticket – The ticket style invitation has inverted rounded corners, similar to an old fashioned ticket.
Tri-fold – The invitations are folded into thirds, accordion style. Although they add a touch of style to wedding invitations, this style is more costly than the standard style.
Scalloped – Scalloped invitations have edges that appear like a series of repeating curves across every edge of the invitation.
Round – Similar to the square shape, but with rounded corners.
Flat – A flat invitation is the traditional, standard style. Since there are no folds on the card, there's no additional costs.
Landscape vs. Portrait Orientation – Landscape orientation refers to the card printed with the top and bottom edges as the longest sides. And the right and left edges as the shorter sides. A portrait orientation is the opposite.
When it comes to how to choose the perfect wedding invitations, there are lots of options. But it's important to choose what's right for you and fits your budget. We hope this mini guide has been helpful in your wedding journey.
You may also enjoy reading: Perfect Gift Guide For 2021