Shopping for Christmas gifts on a budget during the most wonderful time of the year is difficult. Not to mention, expensive. However, many consumers have learned to put aside at least $1000 for Christmas spending.
Even with the Christmas savings account, there's always those new electronics kids just have to have. And well, there goes your budget. It's predicted that this year's holiday sales will total somewhere in the neighborhood of 1.5 trillion dollars.
If you weren't able to get in that expected overtime at work, we have good news for you. That is, shopping for Christmas gifts doesn't mean you have to break the bank if you're on a budget. With this in mind, this article will explain how to maximize your budget while minimizing your expenditure.
We'll even suggest a few cheap but quality gifts to help you save money. So, read on to learn more about shopping for cost-effective Christmas gifts while on a budget.
Shopping For Christmas Gifts While On A Budget
Before your eyes start glazing over from all the new stuff in the marketplace, revisit your spending habits from last year. Which gifts left you scrimping on other people's wish lists? Did you remember to put extra money in your Christmas account this year?
Comparing last year's successes and missteps will be helpful in calculating this year's budget. This simple exercise just might help determine if you're spending too much on gifts in general.
And here are more cost-effective gift-giving strategies.
Create A Budget
With just a few weeks to go before the holiday season kicks off, now is the time to devise a strict budget. If you're not using fancy apps like Spending Tracker, PocketGuard, or Mint, an Excel spreadsheet will do just fine.
Here's how to start. First, work out a figure based on your expenditure from last year as well as this year's circumstances. Then, divide that between all the people on your shopping list. When it comes time to actually using it, don't waiver, instead stick to the amounts you've come up with. But one thing to keep in mind is last-minute gifts and unexpected price changes. So, add a 15% buffer to your budget.
Implement A Gift Exchange
Another way to reduce your holiday debt is to participate in a secret Santa gift exchange. Put the names of your family members, friends, or coworkers into a hat. Then, covertly redistribute the pieces of paper. Everyone must then ONLY buy a gift for the person they drew. Moreover, these games usually have a predetermined spending limit. Thus, ensuring that the most you'll spend will be between $20 and $50.
A gift exchange is not only more cost-effective, but it's also less stressful. Not to mention, you can put more thought into buying a gift for one person rather than an entire household.
Make Your Own Gifts
In the true spirit of Christmas, let the little elf in you out. It could be easy to bake someone a delicious batch of speciality cookies or other dessert. If you enjoy woodwork like most of Santa's elves do, make a gift from wood. The point is, use your skills or special talent and make something for someone versus buying it.
Check Last Year's Supplies
You might be spending too much on holiday cards, wrapping paper, gift tags, etc. Wrapping paper may not always be necessary, particularly if the store provided an attractive looking bag. In general, many people automatically restock their wrapping supplies each year. Have you checked last year's inventory? It's most likely perfectly usable stock.
Buy Budget Gifts
When you're ready to start shopping, consider exploring "Gifts Under $20" and "Gifts Under "$50". In addition to being stylish, these gifts are also affordable and should fit into your budget nicely. Additionally, you can personalize these items which makes your gift seem as though you spent much more than you did.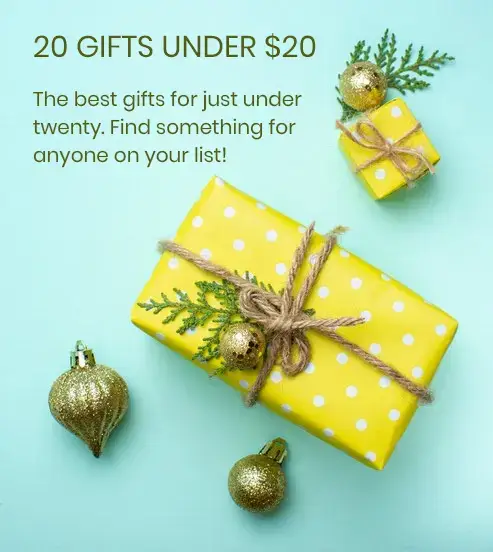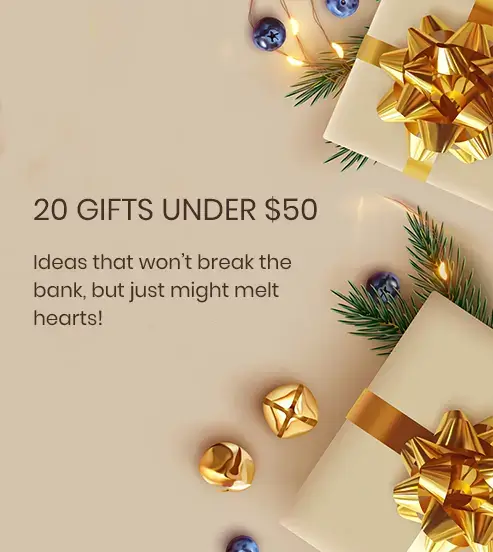 Hopefully, you found economical inspiration in the above ideas. Generally speaking, it's important to start early. Doing so allows yourself maximum possible time to do your holiday shopping before December rolls in.
You may also enjoy reading: Tips For Hosting Thanksgiving Dinner & Party Ideas