Foil invitations & cards add an elegant look to your event decor. Attendees and family will be impressed with how beautiful your event looks.
For weddings, foil elevates the occasion to a new level. Not used for just weddings though, but foil also make holiday cards look for intricate. Continue reading to discover how foil invitations & cards are different from regular cards. When you're done reading, you'll want to foil everything!
What Is A Foil Invitation or Foil Card?
To create foil, various colors like gold, silver, and rose gold are dyed into the metallic material. Invitations are foil-printed by a machine in bulk rather than being colored with normal ink. They're printed with the foil color of your choice. And the result is more color and glamor which make your card stand out from normal looking cards.
In most cases, foil is not only material used in the invitation. As such, it adds another level to the invite and make them look timeless and classic. Not only is foil luxurious, but it makes a great impact on any card.
Advantages Of Choosing Foil Invitations & Cards
Foil invitations & cards add a modern sophistication to your event that plain cards just don't have. Particularly, gold foil creates a luxurious shine, catching the light to draw focus without changing the design's style. If you're wanting to level up anniversary parties, birthday invites, holiday cards, and definitely a wedding, opt for foil cards!
Using foil for lettering or accent areas like the borders also add uniqueness to the card.
ROSE GOLD
SILVER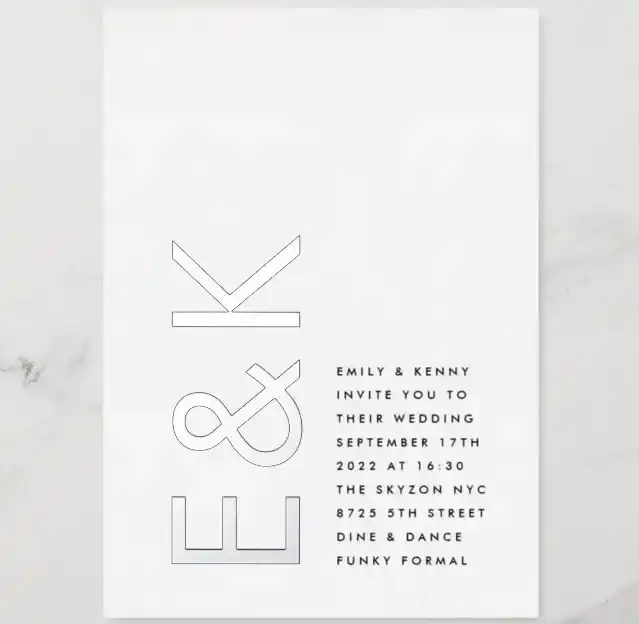 Foil Card and Foil Invitation Sizes
Although the traditional size of foil invitations & cards is 5″x7″, there are other sizes to choose from. For example, a 5″x3.5″ foil card is the ideal size for an RSVP insert. But the 8.75″x6.5″ is more suitable size for a Save The Date foil invitation. You can also change the orientation on these sizes and several other available sizes. But keep in mind that the 5″x7″ fit in a standard envelope. For this reason, you can opt to buy different colors of envelopes to add even more uniqueness to your mailings. By do that, recipients won't lose the card and it'll serve as a reminder of your upcoming event.
Regardless of the size, foil color, or style of card you choose, you'll amaze everyone. So, sending wedding invites, grad announcements, or Christmas cards, having a foil card takes it to the next level.
You may also enjoy reading: 6 Ways To Make Digital Art That Comes To Life