As an apparel business owner, you no doubt had to decide the most popular t-shirt colors to sell this year to stay current with the latest trends.
Since customers don't know what colors to choose, they will ask you; the business owner, about t-shirt color trends. There are so many beautiful colors and shades of colors which makes it difficult which colors to stock. But one thing to keep in mind is that everyone wants to look good, and have a practical design.
So, to help you offer the best guidance to customers, we researched popular t-shirt colors to sell this year. Of course, everyone has their own personal style and taste when it comes to fashion.
Popular T-Shirt Colors To Sell
To make it easy, we'll help you discover the most popular t-shirt colors to sell this year. Of course, black, white, and gray are the classic colors, but we're going a bit beyond those. By knowing the top choices, you help better help customers make informed decisions. Let's get started.
Green
All things nature inspired are pretty popular, including for colors and fashion. As such, green has emerged as a popular color. Let's check out the top shades.
Forest. Printing on a forest green t-shirt just screams earthy vibes. This deep, rich hue is associated with freshness and the environment. It's ideal for designs related to sustainability, outdoor activities, or nature. Pair it with a contrasting color in your design like red to give it vibrance.
Kelly. Named for a common Irish family name, it evokes the lush green Irish landscape. As a vibrant middle green, it's great for fun, lighthearted designs.
Deep Teal. With its blend of green and blue undertones, Deep Teal is a fan favorite. Not surprising given its visually soothing look and ability to pair well with many different designs. This versatile color will add depth and dimension to your printed t-shirts.
Off White
As a nice subtle deviation from the classic white tee, off white is at the peak of its popularity. If you're still hesitant about moving away from pure white, the various shades of off white may just be a game changer.
Soft Cream. Soft cream for printed t-shirts offers a subtle and refined look with timeless appeal that will enhance your print's visibility. On the internet, you'll find thousands of t-shirt design ideas for a soft cream tee. In fact, we just found the two below for you.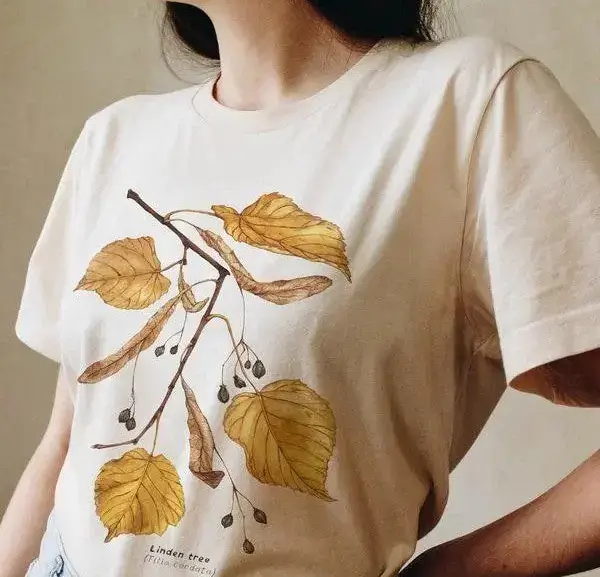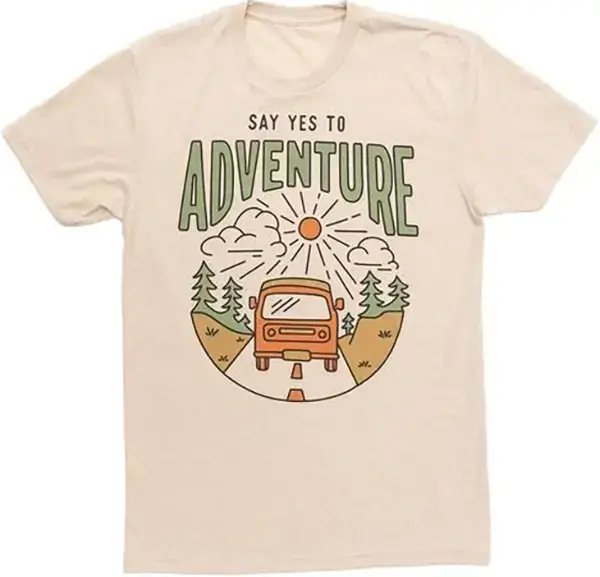 Soft Cream. While soft cream embodies a warm and inviting tone, heather dust exudes a cool, muted aesthetic. If your company logo features cold hues, choosing a t-shirt that matches that tone creates a cohesive look. Heather dust also adds a touch of originality to your tee, as compared to using a plain white t-shirt.
Red
Some of the softest t-shirts are crafted from 100% Airlume combed and ring-spun cotton, a fabric renowned for its exceptional softness, smoothness, and comfort. And the saturated red color? Just as special. Pair it with complementary colors for a standout design.
Purple
A purple t-shirt as the canvas for a print design is a distinguished choice. Often associated with nobility, luxury, and power, it's sure to make any design stand out. Whether you opt for the elegance of silver, the boldness of black, or a luxurious touch of gold, any choice will create a visually appealing design.
Orange
The current popularity of orange tees is tied to the resurgence of a '90s aesthetic. The warm, bright, sunset-like qualities of orange perfectly capture the essence of the iconic designs from that era. This color also pairs well with many different design styles.
Yellow
When it comes to t-shirt colors, don't overlook the power of yellow. This vibrant color is associated with positivity, energy, and warmth, making it a popular and versatile choice. Since it's light in hue, you have the flexibility to print different designs on it. Anything from a fun graphic to a formal logo.