Distinctive wedding color palettes can impact every aspect of your big day. From flower choices to wedding décor and food and everything in between.
It's no secret how powerful having a wedding color theme can be. In fact, colors can affect the body and mind as well as your feelings. Every color has a unique meaning, from spiritual, scientific, and cultural perspectives.
So, choosing from distinctive wedding color palettes is an important decision for your day. Wedding season is just around the corner. And new wedding color schemes are coming out. Consequently, it can be challenging and confusing to make a decision when presented with many different color schemes. Particularly if you don't want to fall into the seasonal trends trap.
Choosing Wedding Color Palettes and Schemes For Your Big Day
Are you already planning your special day or just looking for some inspiration? In either case, we've selected a few unique color matches as well as some classic color combinations. Check them out and feel free to claim them as your own!
1. Purple and Silver
For a winter or fall wedding, purple and silver is a regal color combination. The rich purple adds sophistication and depth to the shiny silver. This creates a stylish and glamorous atmosphere that is perfect for an upscale wedding. Also for a fairy tale themed wedding, this color palette brings a touch of magic.
2. Sage and Blush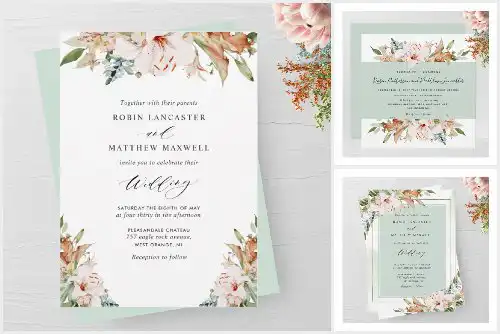 Sage and blush is a delicate, soft combination that's ideal for a summer or spring wedding. As soothing wedding color palettes go, this one creates a calm atmosphere that's appropriate for a garden wedding. Additionally, these colors work well in a boho themed wedding.
3. Coral and Teal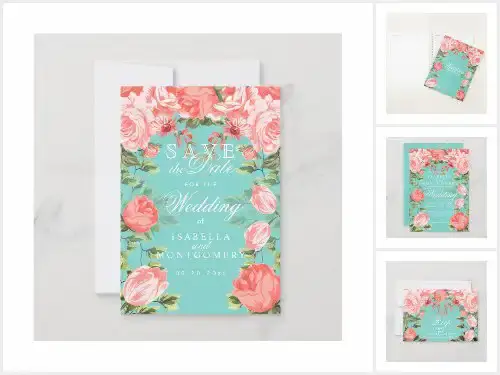 Bright wedding color schemes like coral and teal can be used for spring or summer weddings. Since coral is a warm color, the teal adds a pop of color. As a result, the atmosphere is fun and fresh that's ideal for a beach wedding.
4. Navy and Blush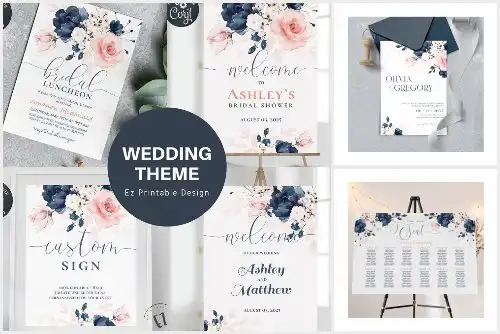 Sophisticated and classic, navy and blush color combination is ideal for a winter or fall wedding. The bold navy color adds a touch of sophistication to the soft blush. Thus, creating a beautiful contrast that is both elegant and romantic.
You may also enjoy reading: Invitations, Cards Available As Instant Downloads