What to write in a wedding card mostly depends on who the wedding wishes are for. While it's customary to offer wedding wishes to the newly married couple, it doesn't have to be difficult. So, to eliminate the guesswork, we have compiled a quick guide on wedding wishes.
Whether you're looking for what to write in a wedding card for a friend or funny wedding messages, find it here. Offer best wishes with custom wedding stationery for the ideal wedding congratulations. But whatever you decide to write for your wedding message, say it from the heart.
Shop Trending Categories
In reality, crafting the perfect wedding message doesn't have to be complicated. With a few do's, don'ts, tricks, and tips you'll be composing wedding wishes that exemplifies the couples' happily ever after. The twosome will cherish your thoughtful words when they cuddle post-honeymoon to peruse their beloved collection of cards. Regardless if it's a simple elopement or elegant wedding, these wedding wishes shows the couple your best wishes for them.
Scroll through our quick guide or jump to a section that interest you:
What To Write In A Wedding Card
The ideal wedding greeting card should be focused on the couple, and genuine sentiments. With this in mind, no two wedding messages will be exactly the same. Albeit, you may feel pressured to say the perfect words; don't. Our guided wedding card etiquette with easy instructions can help you decide what to write in a wedding card.
Generally speaking, a congratulation is customary and should help you start your wedding greeting.
Add a wedding wish unique to the couple. The next few lines should include a personalized wedding wish for the couple. But before you begin writing, consider your relationship with the couple. What will the newlyweds enjoy reading after their memorable day?
Offer a thank you. Save space on the card to thank the bride and groom for inviting you to share in their big day.
Provide a warm closing. Before signing the card, add a nice closing.
Wedding Congratulations Messages
Expressing congratulations is commonly included in wedding greetings. It offers support as well as an acknowledgement that lets the couple know that they found their soulmate. And once the ceremony starts, offering 'congrats' to either side is appropriate. Also, it doesn't matter if you've just met the couple or known them all your life. You can't go wrong with a sincere wedding congratulations message.
Follow step one from above and choose one of your preferred messages below. Or, to get started on your wedding card you can even add them to your own words.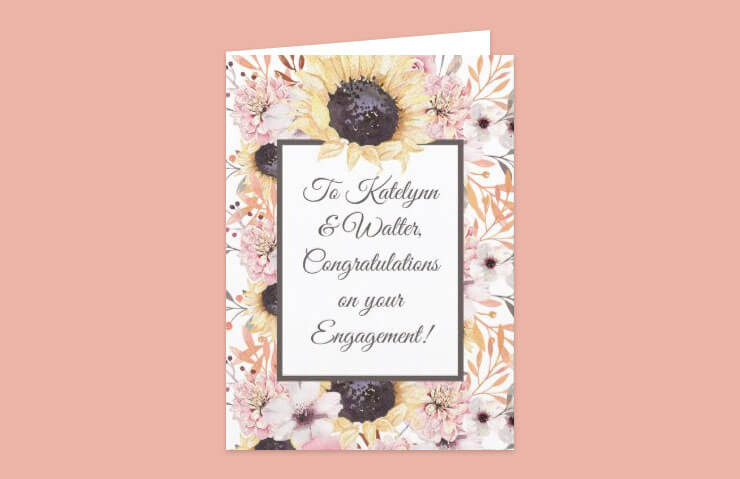 EXAMPLES:
Through the storms of life, may your love for one another be strong and steadfast. Wishing you happiness and joy on your wedding day. Congratulations!
Congratulations on your wedding day and best wishes for a long, happy life together!
Seeing you two make promises and step forward into the future together is so inspiring and wonderful.
Your wedding day may come and go, but may your love forever grow. Congratulations to the perfect couple!
Congratulations on finding each other! Your best life has just begun.
I hope through the years you become even better friends and share every possible kind of happiness life can bring. Congrats.
Kudos to you both on your very special day! May your wedding be filled with memories you can treasure forever.
Feeling so much joy for the two of you as you join your lives in marriage!

Casual Wedding Wishes
Notably, the couple will enjoy reading their wedding cards after the ceremony. Not only for various reasons, but also because of who they're come. Therefore, you should be authentic when writing your wedding card message. Casual personalities don't always enjoy a lot of pomp and circumstance. So, if you're more casual, don't feel awkward keeping your wishes short and sweet. Simply build upon your congratulations and say something endearing.
EXAMPLES:
Through the storms of life, may your love for one another be strong and steadfast. Wishing you happiness and joy on your wedding day. Congratulations!
Time flies and things change, but I wish that your love for each other remain the same.
Delighted to celebrate this day with you both!
Wishing you lots of love and happiness.
Best wishes for an awesome future together.
Funny Wedding Card Messages
If you know the newlyweds well, funny wedding card messages can be appropriate. Besides, they're already smiling, why not make them laugh. With this in mind, proceed with caution. After all, you don't want your wedding message to be offensive or come off as sarcastic. Some jokes, when spoken don't come across the same when written. But the advice of avoiding divorce jokes must be remembered! Use your best judgement when writing your funning wedding wish. And you can always ask a friend or family member to read it before you add it to the card.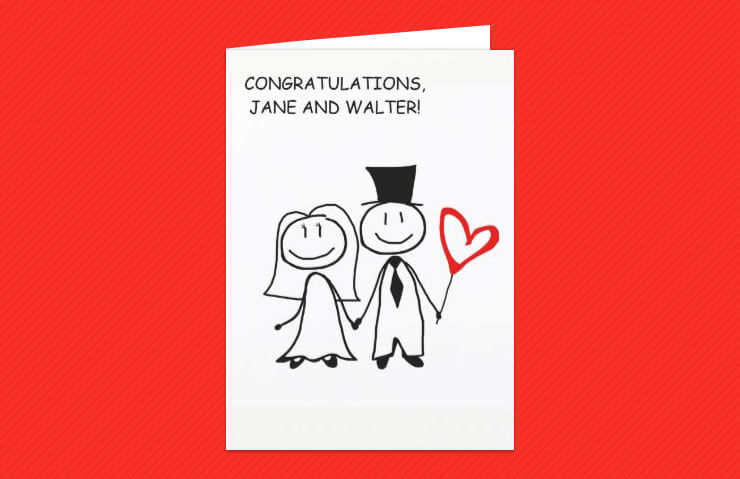 EXAMPLES:
Getting married is like going to drama school. May there be more comedy than melodrama.
Our marriage advice: love, honor and put down the toilet seat.
I'll tell you the secret of a happy marriage. It's still a secret to everyone! Wishing you all the best of times ahead.
Life is not fair for single people like me. Until now I only had to buy you one gift a year on your birthday. Now, I have two birthdays, plus a wedding anniversary to buy gifts for. Congratulations to my best friend on tying the knot.
Weddings are joyous occasions that not only bring a couple together, but also their families and friends too. Know what to write in a wedding card that makes the twosome feel special. As shown above, a thoughtful wedding card is the ideal addition to a personalized wedding gift. Especially with well-crafted words inside.
You may also enjoy reading: Ideas To Honor Your Grad in 2021