Every bride wants the latest wedding invitation trends for her special day in 2023. After all, wearing an unfashionable gown and having outdated decor can ruin any wedding.
The best wedding invitations captures a special moment in time, but they seldom stay the same. Gifted artists and designers create invite ensembles to accommodate how couples' preferences and tastes evolve. Wedding invitation trends then emerge and will help set the tone for thousands of 2023 wedding celebrations.
From daring pattern combos to inventive dimensionality, the wedding invitation trends we'll see for 2023 pushes the envelope. But in ways that are true to the design while also accentuating the authenticity of the wedding couple.
New trends in the wedding world happen every year. As a result, couples can better express their unique personalities. In general, the first place you get to flaunt your love story is on your wedding stationery.
With this in mind, we've rounded up some wedding invitation trends for 2023 to help you with personalization. We're also expecting to see bold wedding dress designs and decor this year. Don't miss out on those or the best wedding invitations below!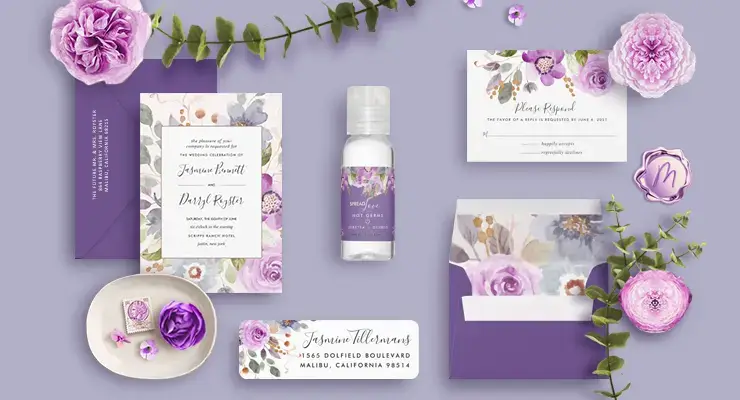 Wedding Invitation Trends For Spring 2023
One of the big wedding trends of 2023 will be a shift away from green and white florals. Instead, warm, romantic floral wedding stationery sets in tonal palettes will be popular. So couples will opt for serene hues like purples, mauve, and dusty rose. Also, super bright, bold stationery palettes are rising in popularity. Most times they are paired with minimalist stationery sets or fun, informal designs.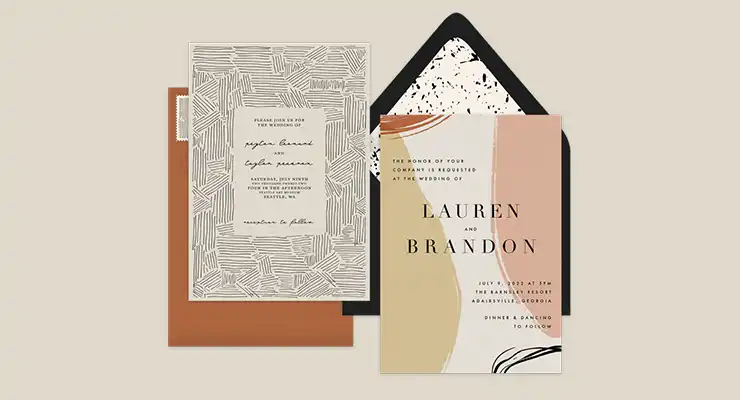 Best Mixed Patterns Wedding Invitations
Mixed patterns will be one of the most daring wedding stationery designs for this year. Multiple patterns in complementary styles within a single suite. In general, this trend finds its roots in couture fashion designs. So it's a bit maximalist and edgy. Patterns are expertly mixed and matched with embellishments. It's all done in a single suite and provides a cohesive, exciting look.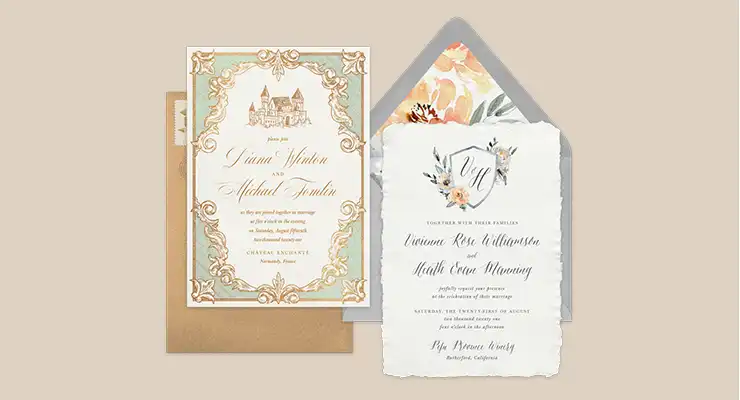 Highly Customized
Couples are becoming increasingly drawn to stationery designs that really tell the story of their relationship. Custom monograms and crests continue to be popular, featuring iconography and other elements that represent the couple. These elements can also be placed on signage and menus as well as the invitation. In addition, fully custom invitations and stationery will also gain popularity. For example, details like venue illustrations and maps will be used that fit the personal aesthetic of the couple.
Loving these trends? Vizons Design can make your wedding day even more special with custom stationery sets. Get in touch with us today!
You may also enjoy reading: Baby Gifts For 6-Months Old