Choosing personal note card designs allow for more design freedom than business note card designs. Personal note cards are sent as casual correspondence. You can compose a 'just because' message to someone special in your life with little thought to imagery.
On the other hand, business note cards require more thought to the image used. Even if you're communicating with a client in a personal way, pay attention to the note card image on the cover.
In essence, what does the image on the note card mean that you have chosen? Why are you drawn to it? As such, determine if the image on the note card is the right one for your purposes. Images can be powerful and evoke thoughts and emotions in others. Choose the image wisely and you're likely to brighten the recipient's day.
Shop Trending Categories
Inspiring Personal Note Card Designs
When sending personal note cards to friends, you have more freedom to get creative. You could easily include a short poem that is related to the cover image. Particularly if you are trying to show support.
For example, you might choose note cards featuring a colorful peacock feather. Then your poem could mention that peacock features are thought to bring well-being and good luck.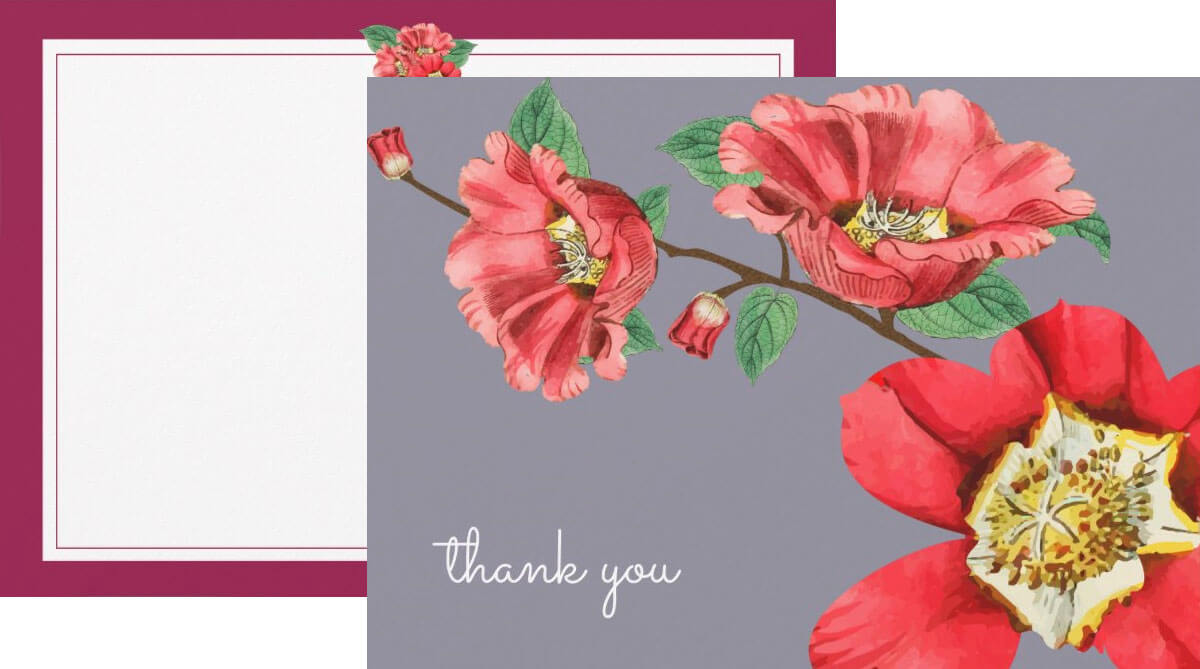 Flowers also have different meanings. For instance, in the note card shown, the rose moss flower is considered to have magical powers. In the 1700s the portulaca plant; moss rose was used for medicinal purposes. Because it's high in iron and vitamins, the leaves were eaten as a vegetable and was used to cure scurvy. This particular note card has a 'Thank You' title. However, you can personalize our personal note card designs with your own title and message.
Consequently, this flower on personal note card designs lets your friend know she'll eventually heal. Whether it's from a heartbreak or curable disease. The image will keep her strong and remind her she's not alone in her struggle.
Or, you could choose personal note cards that feature a lion. Lions denote strength and will let your friend know you are guarding her welfare. You could also choose a note card that features an Adirondack chair set amidst a peaceful ocean. This symbolizes that peace and relaxation are coming soon.
If you're a Christian, consider sending personal note cards with a colorful butterfly. You could then include the Bible verse 1 Corinthians 15:42-44. For a secular approach, remind your friend that butterflies symbolize transformation, as they change from one form to another. Although butterflies began their lives an ugly caterpillars, they grow into beautiful works of nature.
Tell your friend it's time for her to emerge from her cocoon glorious and new. After all, only a note card with special imagery from a friend can do that.
Elegant Business Note Card Designs
There's a different etiquette for these types of card designs. Business note card designs featuring a lighthouse denotes inspiration. A lighthouse not only projects strength, but it's also a symbol of guidance. With this in mind, if you own a consulting company, this imagery is particularly useful. A lighthouse is just like your firm – guiding clients in the right direction.
Sailboats are also excellent imagery for business note card designs. Business note cards featuring a sailboat cruising along the water indicates smooth sailing. And these smooth waters could morph into profitable and smooth business endeavors.
Anchors are also popular imagery for business note card designs. An anchor centered at the top shows that your business is anchored. And will remain firm and steadfast even through the roughest of waters, bring clients comfort.
Choosing a buzzing bee hive is also appropriate imagery for business note cards. It shows that even though everyone is busy working hard, the final result is the sweet honey of success.