Not everyone need happy Kwanzaa holiday celebration ideas in 2022. But the Christmas holiday season is a time for wonderful cultural celebrations; including Kwanzaa. It's a holiday displaying the core principles of African heritage and filled with gratitude and creativity.
Whether you're just looking to learn more about the holiday or you're celebrating Kwanzaa yourself, we've you covered. From Happy Kwanzaa cards to holiday celebration ideas, here's a quick guide to get the most from the holiday.
What Is Kwanzaa About?
Kwanzaa is a celebration of African American values, heritage, principles, and culture. It was created by activist Maulana Karenga in 1966. And the purpose was to be an alternative to Christmas that celebrates Black history and culture. So, it's a culture holiday and not a religious one. These days, Kwanzaa holiday celebration ideas are just as plentiful as the Christmas holiday season. In fact, Kwanzaa is seen as an additional holiday instead of a replacement.
The name Kwanzaa comes from the Swahili phrase "matunda ya kwanza," which means "first fruits". The extra "a" on the end symbolizes the seven principles. The seven principles of African heritage are celebrated as follows:
Umoja (Unity). Aim for and foster unity within the family, race, nation, and community.
Kujichagulia (Self-determination). Define, create, and speak for ourselves.
Ujima (Collective work and responsibility). Work together to build and maintain our communities.
Ujamaa (Cooperative economics). Create and maintain our own stores and businesses so that we profit from them together.
Nia (Purpose). Strive toward building a community that restores our traditional greatness.
Kuumba (Creativity). Create and find ways to leave our community more beautiful than it was before us.
Imani (Faith). Believe in our people and the righteousness and victory of our struggle.
These seven principles of Kwanzaa represent the strong values within communities of African heritage. And guide the different ways to celebrate and honor the holiday and its traditions December 26 to January 1.
Happy Kwanzaa Celebration Ideas For 2022
Now that you know more about cultural experience, here are Kwanzaa celebration ideas to get you involved.
1.

Create a Kwanzaa Display

Within your home, creating a Kwanzaa display is a wonderful way to honor the traditions of the holiday. Set up a table somewhere that can be enjoyed and seen. Place a seven-branch candle holder and with candles on top. These candles represent the seven principles of Kwanzaa. You can also add a unity cup to symbolize the unity of community and family.

Complete your display with crops like dried ears of corn, sweet potatoes, and squash. Such symbolic foods represent the bounty of the harvest. But the ears of corn specifically represent any children celebrating the holiday in the home.
2.

Beautiful Cards To Help You Say Happy Kwanzaa

At Vizons Design, are Kwanzaa cards are inspired by traditional symbols, patterns, and colors. Of course, some have a contemporary twist. Customize any design by changing the layout, fonts, and colors. Then, add a personal message to your recipient.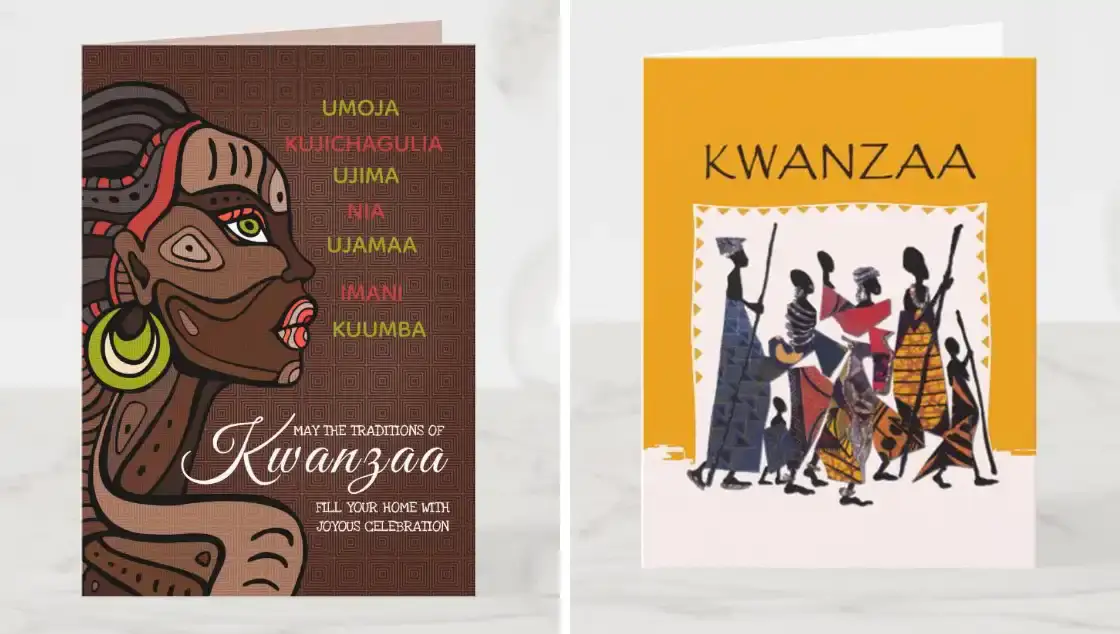 If you want to share the love this Kwanzaa holiday season, send a beautiful card to someone who celebrates the holiday. Or to someone with whom you want to share the joy of Kwanzaa. This is a wonderful and easy way to celebrate with loved ones wherever they are in the world.
3.

Give Your Time and Resources To Others

Kwanzaa reminds us of the importance of community and building up those around us. This makes it a great time of year to get involved with volunteering in your local community. Also, giving your time, expertise, or resources to charity projects. Another way to give your resources is to shop with Black stores or help out your neighbors.
4.

Cook A Feast

Everyone appreciates a good meal. Traditionally, a feast known as Karamu is held on the sixth day of Kwanzaa. During Karamu, friends, family, and the community gather together to enjoy a rich meal followed by dancing. Popular dishes to serve include jerk chicken, catfish, collard greens, okra stew, and gumbo. But you can also include personal favorites and recipes passed down through the generations.

You may also enjoy reading: Shopping For Christmas Gifts On A Budget in 2022